Is your leadership evolving to meet her specific needs?

What influences her buying experiences? How can you increase her brand confidence?   What can I do to engage more women business owners?  How can I empower my brand with women?…
From keynote speaker engagements to webinars and mastermind roundtables with c-level executives, we will work with your team to customize a unique experience for your specific objectives and audience,  delivering a fun, timely, informative and entertaining presentation for your participants to increase selling success with women and better understand the female consumer.
For more info check out Delia's speaking package.
BDC Training & Recognition Program
PROVEN to Grow Sales with Women [Great for auto dealerships!]
Training is based on Delia Passi's best-selling book, Winning the Toughest Customer;  the Essential Guide to Selling to Women.  Delia is known for her extraordinary engagement and ability to  relate and connect with sales and service professionals in a format which will result in maximum learning and results.
Educate staff on how to sell to women considering the "new norm"  of how she buys
Learn how to turn a customer into a brand ambassador & drive referrals
Market your Women's Choice Award to differentiate your dealership…give  her a reason to call you!
Mystery shoppers and ongoing reinforcement tools
Contact us today to learn more.
About Delia Passi: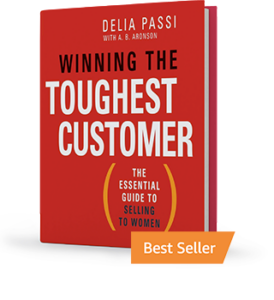 Delia Passi is former publisher of Working Mother and Working Women magazines and responsible for the pinnacle success of the 100 Best Companies for Working Mothers list. She is the author of Winning the Toughest Customer: the Essential Guide to Selling to Women. As a leader in marketing and selling to women, she is a sought after marketing to women expert and recognized as a game changer.
As a consultant to numerous Fortune 500 companies, Delia advises her clients how to better understand their female consumers, supporting them to increase deals closed, improve customer service, and gain the loyalty of these hard-earned customers. Her expertise centers on how women shop and buy, what motivates them to select one provider over another, and how sales and service professionals can provide the best experience to women. Delia's engaging speaking approach combines humor, practicality and "Aha!" moments, leading her to captivate audiences at events.
Delia began her career in sales with the Xerox Corporation and quickly became one of the company's top producers, becoming known internally as "The Closer." It was when she made the switch to selling advertising that she recognized how a specialized approach proves to be more effective when it comes to selling to women, who dominate the publishing environment.