When it comes time to buy, women are key decision makers and value recommendations and referrals She likes to make decisions based on emotion and trust and validation and the Women's Choice Award™ provides her with all three.
As the only award based solely on the recommendations of the most powerful consumer: women, the Women's Choice Award empowers female consumers by giving them a collective voice to identify brands that deserve her loyalty and referrals. The  Women's Choice Award™ is the trusted referral source by women, for all, with 96% of women saying they will trust your brand more when they see the Seal.  And it's nice to know that 80% of men value the seal when making a purchase as well. We deliver the trusted third-party validation that consumers seek.
Women account for over 85% of all consumer purchases yet women are busier than ever juggling work, family life and personal time, with little time left over for anything else. So, in 2010, we asked women how to best support her busy lifestyle. The answer was clear: Simplify her life by identifying the best products, services and healthcare facilities, which would allow her to spend less time researching and struggling over choices in today's cluttered marketplace- and more time focusing on what really matters.  Thus the Women's Choice Award was born!
Check out the Women's Choice Award site to see if your brand has qualified or contact us to get the qualification process started.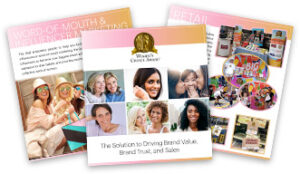 Please also check out our ebook: The Solution to Driving Brand Value, Brand Trust and Sales for ideas on how to leverage the award.
Validate your brand, establish credibility and access the trust of women with a visual spotlight of the Women's Choice Award seal.
TRUST
Seeking out reliable, trusted endorsements has become more important than ever. 92% of women surveyed would trust a brand more if it carried the Women's Choice Award seal.
EMPOWERMENT
Empower the female consumer with the confidence she's made the best decision for herself and her family. As a trusted referral source, Women's Choice Award simplifies her choices in a cluttered marketplace and gives her the confidence to choose your brand.
VALIDATION
For consumers, it's not what YOU say about your brand, it's what OTHERS say that matters most. The Women's Choice Award is the third-party validation consumers trust. In fact, when choosing between two brands at a similar price, 95% of women say that seeing the Women's Choice Award seal would make their purchasing decision easier.
Contact us today to learn more.